A partnership that stimulates economies and builds capacity
We offer specialist solutions to the public sector, partnering with governments to increase capacity and delivery.




THOUGHTS FROM OUR LEADERS
Public sector support is built on trust and long-term relationships
In South Africa, the Public Sector includes State Owned Entities (SOEs), Municipalities, National Government, Provincial Governments, Universities and Agencies.
Absa CIB works with five of the country's eight municipalities, 18 key SOCs and we facilitate the largest portions of National Treasury and South African Revenue Services (SARS) collections.
The breadth of this portfolio is testament to a trust-based relationship developed with the Public Sector over time, but also represents significant value in that it affords our team an extensive view of the linkages and dependencies of the different spheres within the sector.
This is why we do not separate public entities into different sectors, such as power and utilities or infrastructure. What transpires in one sphere of government from a budgeting perspective impacts other entities and municipalities across the country.
This is where our team of experts work together to ensure we understand the entire landscape, equipping us with a macro view necessary to assist our clients navigate current conditions while preparing them for future challenges.
At Absa CIB, our extensive knowledge of the Public Sector enables us to offer value to clients across the African continent, in support of operational requirements as well as assisting them to compete in a digitised world
As a trusted advisor to government, the public-private partnerships that we either facilitate or those that are backed by Absa directly carry significant weight. Our continued investment and surety agreements in this space showcase our commitment to our local economic growth.
We believe a successful future lies in private-public partnerships and we will continue to build these relationships.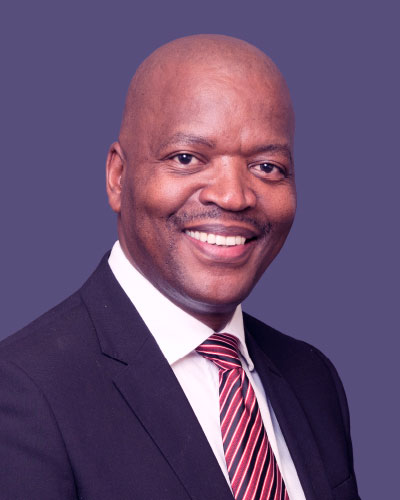 Managing Executive: Public Sector and Growth Capital Solutions

THOUGHTS FROM OUR LEADERS
Deep B-BBEE expertise and relationships to facilitate successful acquisitions and South Africa's economic transformation
Absa CIB's Growth Capital facilitates and finances transactions relating to Broad-Based Black Economic Empowerment (B-BBEE) or indigenisation efforts within South Africa and ARO.
B-BBEE transactions are critical to South Africa's economic and social transformation as they enable previously disadvantaged individuals to acquire businesses or partner with existing organisations, thereby entering the mainstream economy.
Whilst the dynamics around B-BBEE transactions are extremely complex and specialised, our deep industry expertise and relationships position us to recognise, evaluate and facilitate the necessary funding solutions for our clients. These include the best multi-pronged, end-to-end funding and banking solutions, ranging from long-term debt, quasi-equity financing, and various short-term funding instruments such as working capital and trade finance facilities.
We have developed an in-depth understanding of the opportunities, the legislative framework and key players in this space, and have built strong relationships with various Government departments, DFIs and other partner financial institutions whom we work with, all of which are crucial to successfully facilitating empowerment deals.
B-BBEE is a social imperative and we remain buoyant about BEE activity in the country, as the Government reinforces its efforts on the broader economic and social transformation of South Africa.
Head: Growth Capital Solution
African perspectives on the challenges and opportunities facing public sector entities.
SUBSCRIBE FOR QUARTERLY UPDATES
Analysis and data-driven insights for a changing world – delivered direct to your inbox.
What our customers have to say
"Absa provided us with advice on matters related to project finance and maximising interest income on excess cash. The service received has been outstanding and we have had better-than forecasted interest earnings as a result of the guidance and restructuring provided by Absa CIB. We have also received substantial support for decision making purposes when it comes to financial instruments held with Absa."

Dorper Wind Farm – South Africa

President, Trade Association - Africa

"Absa has been a partner bank to ACWA Power since our first successful project bid, providing the group with project financing, working capital as well as mandated as the account bank for the project. Absa has provided great value through its service, tailored solutions, valuable insights and advisory to the group."

ACWA Power – UAE and Africa

President, Trade Association - Africa

"As a partner bank to Marubeni for over 6 years, the Absa team has provided awesome service in assisting us to establish our South Africa office. Their always-available attitude has supported us to facilitate our entry into both the South African and African Market."

Marubeni Middle-East & Africa Power Limited – Japan

President, Trade Association - Africa

"Having a Pan-African banking partner is very important to the group as it gives us a competitive advantage in the market. We are now able to go for the projects we want because we have a partner bank that understands our business and is ready to help us materialise our growth ambitions in the continent."

Gransolar Group – Spain

President, Trade Association - Africa